Sauces
Delicious, versatile, fresh gourmet sauces inspired by travel and adventure.
Gluten Free • Dairy Free • Vegan
---
Saucí Romesco
Piquant red pepper, garlic, and almond sauce originating from Catalonia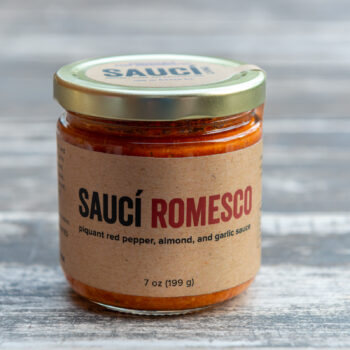 Seductive smoky roasted peppers and paprika, with a playful pinch of garlic and chile. Perfect for dipping, tapas, fish & meat sauces, frittatas or omelets, spreading on sandwiches, or saucí experimenting!
Originating from Tarragona in Catalonia, this popular sauce was born of a mortar and pestle to accompany the catch of the day. But the secret is out, and we know as well as the Catalonians that it's great on everything!
What's in our Saucí Romesco:
roasted red peppers*, roasted tomatoes*, extra virgin olive oil*, almonds, sherry vinegar, garlic, smoked paprika, chili, salt, parsley.
* organic
(less than 1% organic cultured dextrose)
---
Saucí Verde
Vibrant and zesty Ají Verde sauce, a twist on a Peruvian classic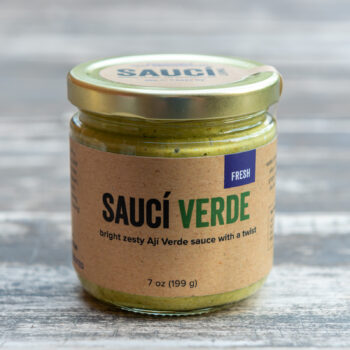 Lively, tangy, herbaceous and spicy, with a slightly sweet finish… our bold twist on Peruvian-inspired Ají Verde sauce blends cilantro and ají amarillo with citrus and spices, and is perfect on roast chicken, fish, meat or veggies, tacos of all kinds, to dress up salads, sandwiches, breakfast bowls, or for dipping!
Throughout Peru, you'll find a delicious, bright, spicy green sauce. Probably dating back to the Incan "uchu", this marvel of a sauce centers on the special Ají Amarillo, with a constellation of fresh ingredients that blend perfectly into your new best friend.
What's in our Saucí Verde:
water, almonds, cilantro*, jalapeño*, onion*, extra virgin olive oil*, lime juice*, lemon juice*, coconut sugar*, ginger*, garlic, ají amarillo, white wine vinegar, salt.
* organic
(less than 1% organic cultured dextrose)
---
Saucí Gin+Scal
Aromatic Asian-inspired ginger scallion sauce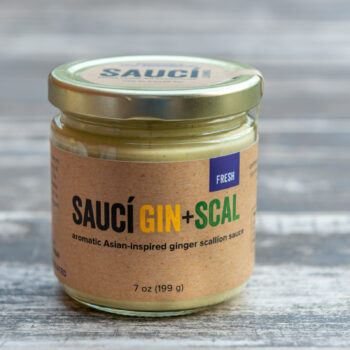 Zesty, woody fresh ginger meets savory scallions, tangy lime, nutty sesame oil, with a hint of salty sweetness. This delightful Asian-style sauce elevates everything from noodles and rice, to seafood, chicken, pork, steak, veggies, omelettes, and more
A re-interpretation of a traditional southeast Asian condiment, this adds blended cashews to some new flavor layers which make the magic happen.
What's in our Saucí Gin+Scal:
water, cashews, scallions*, e.v. olive oil*, ginger*, rice vinegar, garlic, coconut sugar*, coconut aminos*, salt, lime juice*, sesame oil, orange zest*
* organic
(less than 1% organic cultured dextrose)
---
Saucí Piri•Piri
Spicy and tangy African chili pepper sauce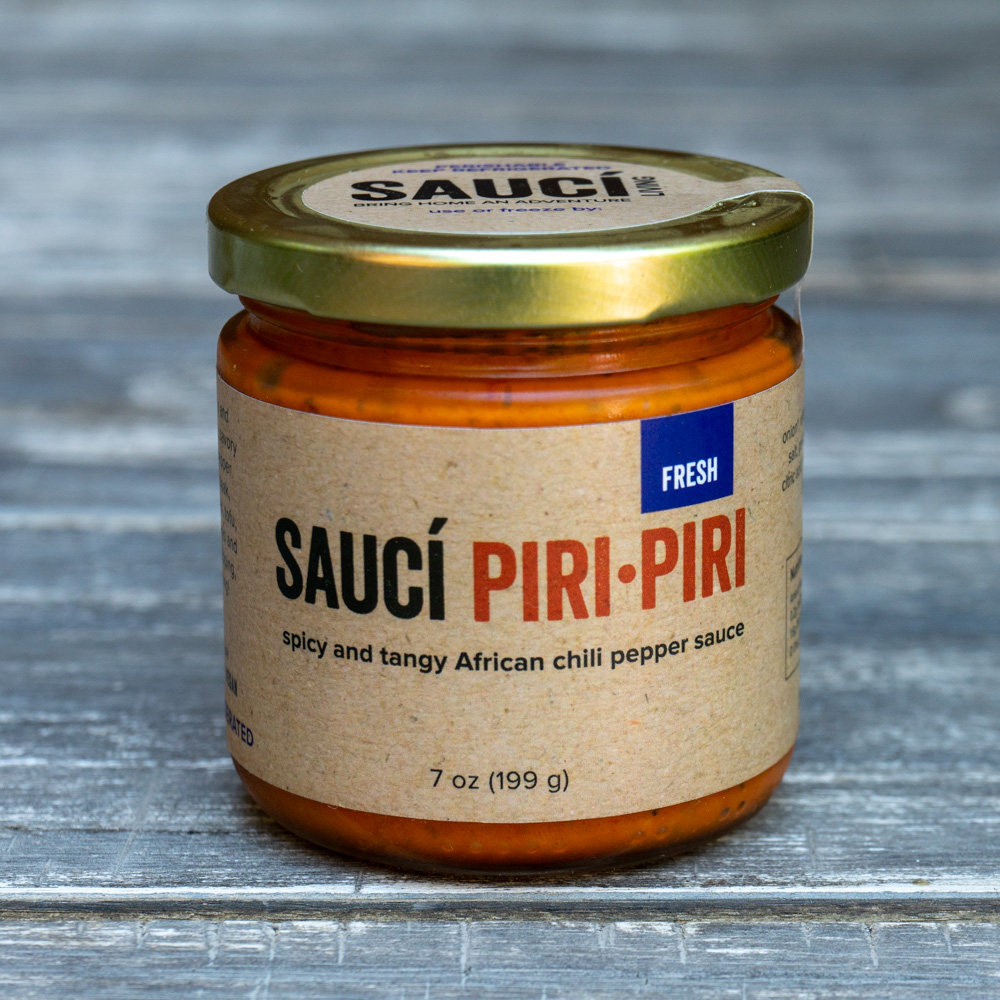 Spicy peppers meet lemon and herbs in this complex, tangy, savory and versatile African hot pepper sauce. Try it on chicken, steak, shrimp, fish, roasted veggies, tofu, eggs, mix with hummus, mayo and more. Great for topping, dipping, marinating, and simmering!
Inspired by travels to eastern and southern Africa, our version of this beloved African sauce brings us back to meals cooked on open fire on the open savannah. "Piri Piri" means "pepper pepper" in Swahili, and is a sauce that speaks to the multicultural crossroads of southern African history. Peppers that originated in the Americas were incorporated by Portuguese settlers and indigenous people into their food after they made their way to southern Africa, and this wonderful sauce is the result.
What's in our Saucí Gin+Scal:
onion*, roasted red pepper*, lemon juice*, e.v. olive oil*, salt, garlic, smoked paprika*, tomato paste* (tomato, citric acid), white wine vinegar*, cilantro*, chilies, spices
* organic
(less than 1% organic cultured dextrose)